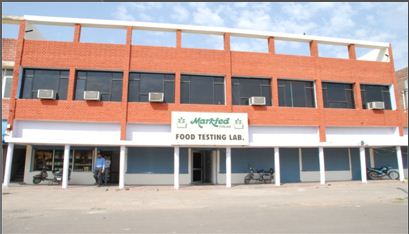 Markfed Food Testing Laboratory,
SCF : 130-135, Giani Zail Singh Nagar,
Ropar - 140001 (Punjab)
Markfed Food Testing Laboratory
Markfed Food Testing Laboratory was established in Rupnagar, Punjab in the year 2005. It is NABL-ISO/IEC 17025 accredited laboratory and has a full-fledged facility for testing & analysis.  
Markfed Food Testing Lab is into routine Food & Agricultural products Testing and Analysisas per National, International regulations and standards as AOAC, AACC, IS/ISO.  
It is specialized in Chemical and Microbiological Analysis of all Food & Agricultural products like Wheat Flour (Atta), Fine wheat flour (Maida), Semolina, etc. and Proximate Analysis also.   
It has complete range of facility in Microbiological parameters. 
It conducts Industrial hygiene Studiesas well.
It has equipments like Extensograph and Farinograph which are used to determine the rheological properties of dough and Markfed is one of the four organizations in India where these equipments are present.